Staccato is Italian for articulated distinctly, with a separation between notes.
you could also use wieniawski concerto No. 2, Hora Staccato by Dinicu-Heifetz.
Learning Concepts
Improves control over the entire bow
Prepares you for pieces that use staccato.
Staccato Exercise

= 40-152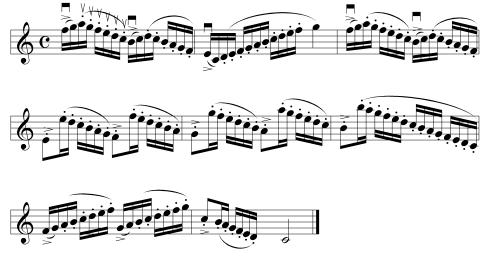 1. Start slowly with a nice "pop" or collé sound at the beginning of each up bow stroke.
2. Build up your speed faster every day and track your progress daily in the Practice Journal.
Important Tips:
Pull to the tip on each down bow stroke. Until you are at top speeds above 120.

Listen to the last two notes of each group of up bows.

For the up bow staccato use straight fingers or the "up bow grip".

For the down bow staccato use round fingers or the "down bow grip".

For speed, try moving up bow while you are doing tremolo.