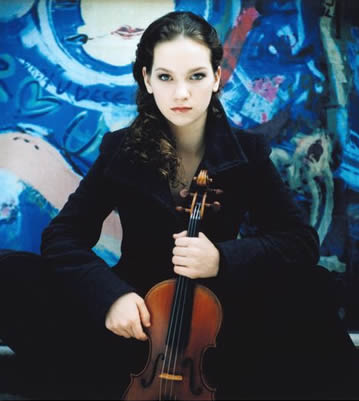 Hahn began playing the violin one month before her fourth birthday in the Suzuki Program of Baltimore's Peabody Conservatory (Sony Bio). She participated in a Suzuki class for about a year. Between 1984 and 1989 Hahn studied in Baltimore under the direction of Klara Berkovich. In 1990, at the age of twelve, Hahn was admitted to the Curtis Institute of Music in Philadelphia where she became a student of Jascha Brodsky. Hahn studied with Brodsky for seven years and learned the etudes of Kreutzer, Šev?ík, Gaviniès, Rode, as well as the Paganini Caprices. She also learned about twenty-eight violin concertos, recital programs, and several other short pieces (Zaustinsky 1999).
In 1991, Hahn made her first major orchestral debut with the Baltimore Symphony Orchestra. Soon thereafter, Hahn debuted with the Philadelphia Orchestra, Cleveland Orchestra, Pittsburgh Symphony Orchestra, and the New York Philharmonic. In 1995 Hahn made her international debut in Germany with a performance of the Beethoven Concerto for Violin and Orchestra in D Major with Lorin Maazel and the Bavarian Radio Symphony Orchestra. The concert was broadcast on radio and television throughout Europe. A year later, Hahn debuted at Carnegie Hall in New York as a soloist with the Philadelphia Orchestra.
By the age of sixteen, Hahn had completed the Curtis Institute's university requirements, but elected to remain at the Institute for several more years to pursue additional elective courses, until her graduation in May of 1999 with a Bachelor Of Music degree. During this time she regularly coached violin with Jaime Laredo, and studied chamber music with Felix Galimir and Gary Graffman. In an interview with PBS in December 2001, Hahn stated that of all the musical disciplines, she is most interested in musical performance (PBS Interview).
Hahn has played with orchestras such as the London Symphony Orchestra, New York Philharmonic, Singapore Symphony Orchestra, just to name a few. She debuted with the Chicago Symphony Orchestra in March of 2007. In the future, Hahn and Chris Thile plan to make a collaboration album. In 1996 Sony Music signed Hahn to an exclusive recording contract, making her one of the youngest exclusive artists in the label's history. Hahn signed with Deutsche Grammophon in 2003 after her contract with Sony expired in 2002. After Hahn completed her part of the contract with Sony, which was for five recordings over six years, she decided against renewing the contract due to the fact that she and Sony did not agree on her future projects.
In addition to being a solo violinist, Hahn has also performed as a chamber musician. Since the summer of 1992 she has performed nearly every year with the Skaneateles Chamber Music Festival in Skaneateles, New York. Between 1995 and 2000 she spent performing and studying chamber music at the Marlboro Music Festival in Vermont, and in 1996 she served as an artist and a member of the chamber music mentoring program of The Chamber Music Society of Lincoln Center.
Instrument
Hilary Hahn plays an 1864 Vuillaume violin that was formerly owned by the Russian violinist Samuel Lande who was a friend of Klara Berkovich, Hahn's first teacher. Hahn uses Dominant strings and bows by French bow makers Paul Jombar and Emil Miquel (Zaustinsky 1999). Hilary Hahn uses Liebenzeller Kolophonium Gold ll rosin on her bows.