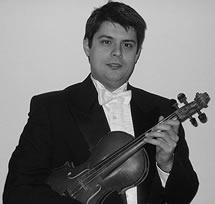 Violinist Hristo Popov brings a tremendous experience to the concert stage. After his orchestra debut at the age of nine he has performed in Bulgaria, Germany, Czech Republic, Poland, Italy, Switzerland, Mexico, and the United States as a recitalist and concerto soloist. He is a founding member of Trio Casalmaggiore and has been playing with them since 1998.
Mr. Popov began his musical education in Bulgaria at the school for gifted children "Dobrin Petkov" in he city of Plovdiv. However, he has completed most of his education in the United States of America. He is a graduate of Idyllwild Arts Academy, Oberlin College, and Kent State University. His teachers include Todor Pelev, Michael Tseitlin, Oleh Krysa, and Taras Gabora.
Mr. Popov is a prizewinner at the Kozian International Violin Competition, Silver Medallist at the California Young Artist Competition, winner of the Grand Prize at the International Institute of Music (Germany, USA), first place at the American String Teachers' Association Chamber Music Competition. Mr. Popov has appeared as a guest artists in numerous festivals such as Park City International Music Festival, Plovdiv Chamber Music Festival, Sofia Summer Chamber Music Festival among others. He is the founder and Artistic Director of Summer Workshop for Strings. Mr. Popov has performed in major Performing Arts Centers in the United States such as Dorothy Chandler Pavilion - Los Angeles, Severance Hall - Cleveland, and John F. Kennedy Center - Washington D.C.
Mr. Popov performs over 20 violin concerti and a wide variety of recital programs. He is as proficient in performing music from the standard repertoire as he is in performing new music. American composer Thomas Janson has written works especially for him. Mr. Popov has appeared on TV stations in Bulgaria, Mexico, and United States. Currently, he serves as the Concertmaster of Opera Circle, Cleveland.
"…Provided the score with chamber music refinement…" The Plain Dealer , Ohio
"Deep, Expressive, and Mature" Musical Horizons , Bulgaria
"…proved to be a true virtuoso…he fascinated the audience with his warm Bohemian magically sweet tone and unsurpassed brilliance!" Kultur am Ort , Germany