By Catherine Reese Newton
The Salt Lake Tribune
Igor and Vesna Gruppman's story sounds like something out of a movie. The Gruppmans - he from Ukraine, she from Yugoslavia - met as 15-year-olds at the Central Special Music School in Moscow. Rivals at first, they began dating while at the Moscow Conservatory in the late 1970s. They wanted to marry, but because Vesna was not a Soviet citizen, "it was very dangerous for us to do that," Igor said in an interview at the couple's Provo home.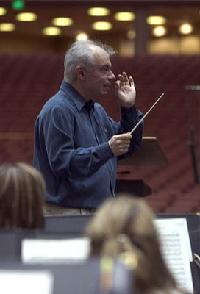 Igor got permission to emigrate from the Soviet Union in 1979. Once permission was granted, he was supposed to leave Moscow within 24 hours, but he wasn't ready. He remembers sneaking from one friend's apartment to another to visit Vesna. Igor remembered the whole thing as "very interesting, very romantic." Vesna characterized it as "nerve-wracking." "It didn't seem so romantic then," she said.
The couple finally reunited and married in Los Angeles in 1980. They taught at Brigham Young University from 1996 to 2002; at present, he is artistic director of the Concerto Rotterdam chamber orchestra and concertmaster of the Rotterdam Philharmonic, and she teaches at the Rotterdam Conservatory in the Netherlands. The couple were co-concertmasters of the Orchestra at Temple Square for a while; Igor was named its conductor in 2003.
Their introduction to The Church of Jesus Christ of Latter-day Saints also has a Hollywood ring: LDS missionaries, who are not to go door-to-door in Los Angeles apartment buildings, but are instructed to teach there only by referrals, knocked on their door by mistake. Vesna converted in 1982 and Igor in 1983. They have been enthusiastic Mormons since then.
What does he like best about her playing? "Her sound and the spirit and emotion she puts into her playing; the sincerity," he said. "Since I remember hearing her play, I've wanted to sound like that. . . . So much spirit is channeled through her."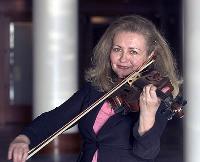 Vesna had to think longer before answering. "It's hard to say because he is my husband, so one can think I'm biased, but you almost don't hear a sound like this anymore," she said. "It's a sound that existed years ago when the great masters were alive . . . The way he treats music with incredible purity and truthfulness to the message of the music, and with the grace of his technique . . . is something you don't hear anymore. "When he plays, he really touches you, even if you have the hardest heart."
Igor, in turn, said he lives by the words of Jascha Heifetz, his former teacher: "Sound, no matter how beautiful, is just an empty vessel until you fill it with spiritual and emotional information and energy," he paraphrased. "We are tools in God's hands, to bring knowledge and spiritual energy through the language of music."