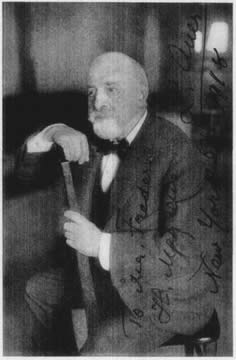 Violinist Leopold Auer (June 7, 1845 – July 15, 1930) was a Hungarian violinist, teacher, conductor and composer.
Auer was born in Veszprém and studied the violin at Budapest, Vienna and with Joseph Joachim in Hanover. He settled in St. Petersburg and taught at the conservatoire there from 1868 to 1917. In 1918 he moved to the United States of America, eventually teaching at the Curtis Institute of Music in Philadelphia.
Violinist Leopold Auer is remembered as one of the most important violin pedagogues. He taught many violinists who would later become famous, including Efrem Zimbalist, Mischa Elman and Jascha Heifetz. A number of composers dedicated pieces to him, though he initially refused to play Tchaikovsky's Violin Concerto, despite being the dedicatee, because he regarded the work as unplayable (however he played the work later in his career).
Auer wrote a small number of works for his instrument, including the Rhapsodie hongroise for violin and piano. He also wrote a number of cadenzas for other composers' violin concertos including those by Beethoven and Brahms (see Violin Concerto (Beethoven) and Violin Concerto (Brahms)). He also wrote the books Violin Playing as I Teach It (1920) and My Long Life in Music (1923).
Auer died in Loschwitz, a suburb of Dresden, Germany and was interred in the Ferncliff Cemetery in Hartsdale, New York.
The jazz vibraphonist, Vera Auer, is a niece of Leopold. Actor Mischa Auer (born Mischa Ounskowsky) was his grandson.
>> Interview with Leopold Auer on A Method Without Secrets