"…the most amazing musician since Mozart."Pablo Casals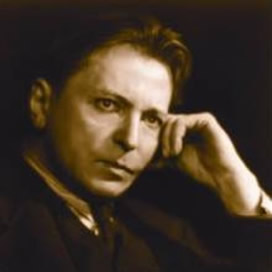 George Enescu (known in France as Georges Enesco) was born on August 19, 1881. Enescu was a Romanian composer, violinist, pianist, conductor and teacher, preeminent musician of the 20th century, one of the greatest performers of his time. He was born in the village of Liveni, Romania (Dorohoi County at the time, today Boto?ani County), and showed musical talent from early in his childhood. His father presented him to the professor and composer Eduard Caudella, who admitted him to the Ia?i Conservatoire. At the age of seven, he was guided to follow his studies at the Vienna Conservatory. Here he studied with great professors such as Joseph Hellmesberger, Jr., Robert Fuchs, and Sigismond Bachrich, and graduated before his 13th birthday, earning the silver medal. In his Viennese concerts young Enescu played Brahms, Sarasate and Mendelssohn. In 1895 he went to Paris to continue his studies. He studied violin with Martin Marsick, harmony with André Gédalge, and composition with Jules Massenet and Gabriel Fauré.
Many of Enescu's works were influenced by Romanian folk music, his most popular compositions being the Romanian Rhapsodies (1901–2), the opera Oédipe (1936), and the suites for orchestra. He also wrote five symphonies, a symphonic poem Vox maris, and much chamber music (three sonatas for violin and piano and two for cello and piano, a piano trio, quartets with and without piano, a dixtuor, an octet for strings, a piano quintet, a chamber symphony for twelve solo instruments). Some of his creations were composed in Sinaia, at his villa in Lumini?.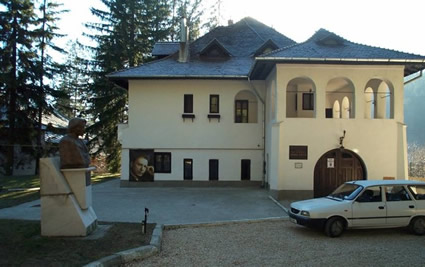 Enescu was the second husband of Maria Tescanu Rosetti, (née Cantacuzino), a woman of noble Greek descent; he found her palace on Calea Victoriei (now the Muzeu Na?ional George Enescu, dedicated to his work) a bit too grand, and the couple lived mainly in an outbuilding at the rear.
In 1923 he made his debut as a conductor in a concert given by the Philadelphia Orchestra in New York. He also conducted the New York Philharmonic between 1937 and 1938.
He lived in Paris and in Romania (see picture of his home in Romaina), but after World War II and the communist occupation of Romania, he remained in Paris.
He was also a noted violin teacher. Yehudi Menuhin, Christian Ferras, Ivry Gitlis, Arthur Grumiaux, and Ida Haendel were among his pupils. He promoted the contemporary Romanian music, playing works of Constantin Silvestri, Mihail Jora, Ionel Perlea and Mar?ian Negrea.
On his passing in 1955, George Enescu was interred in the Père Lachaise Cemetery in Paris.
The symphony orchestra of Bucharest is named in his honor; that city also houses a museum in his memory.