Learning Concepts
Increases your comfort and agility in all positions.
Develops confidence and accuracy in all positions.
Improves coordination.
Based on the Galamian "Contemporary Violin Technique"
Scales Exercise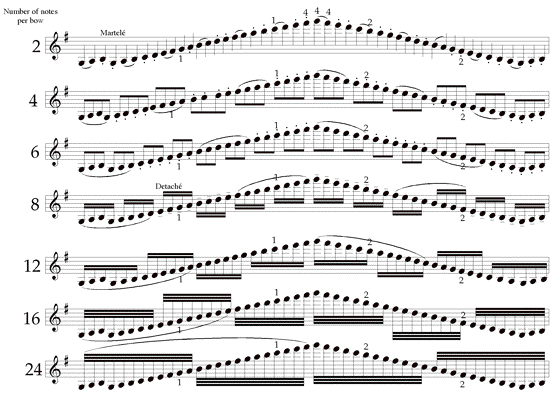 © Galaxy Music Corporation, a division of ECS Publishing, Boston, MA. Used with permission.
Instructions
1. Memorize fingerings, bowings, and positions.
2. Use the WHOLE BOW on every slurred stroke, half the bow on the martelé strokes, and at the very tip or very frog for the small faster strokes 8-24.
3. Build speed:
a. Practice

= 88, then slowly build speed to

= 104.
b. Do repetitions of 2 beat segments with left and right hands seperately.
4. Always listen and tune to the "Intonation Training CD".

This is what it should look like (side view):
This is what it should look like (front view):