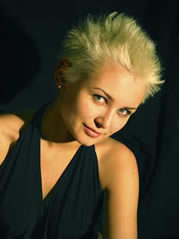 Established as one of Ireland's leading classical musicians since her teens, Cora Venus Lunny has made herself at home in most areas within the arena of violin music: she is in demand as a soloist, chamber musician and interpreter of contemporary compositions.
Born into a musical family of Irish and German parents in Dublin, Cora Venus was given her first violin at the age of three, immediately showing a natural aptitude and love for the instrument. A brief fling with movie acting failed to distract her, and a life in music became her ambition. From the age of thirteen she studied intensively with highly respected violinists around Europe, including Rimma Sushanskaya, Joji Hattori, Alexander Arenkov, Arkady Futer, Lara Lev and Vladimir Spivakov.
Cora Venus has performed at all of Ireland's major concert venues - both in the Republic and the North - including the Waterfront Hall, Belfast and the Point Depot in Dublin. Her concerto performances in Northern Ireland which included the Shostakovich Violin Concerto No.1 with the Ulster Orchestra, were received with great acclaim. Since her first performance on live national TV at the age of five, CVL has recorded many times for numerous TV and radio channels in Ireland and the UK, and her debut at the Kremlin was publicised on Russian radio & TV.
In 2002, Cora was a guest musician on Sinead O'Connor's album of traditional Irish songs, "Sean Nos Nua", her first excursion into the truly "non-classical" world. This inspired her to improvise more and experiment with other genres of music. A few months in Vienna among the classical establishment became an unintentional sabbatical, and confirmed for Cora that despite her love for classical music, she needed to broaden her musical horizons.
Cora's involvement over the past few years with MIT Media Lab, playing Tod Machover's Toy Symphony on the Hyperviolin, has taken her to Berlin (playing with the Deutsche Sinfonie Orchester Berlin under Kent Nagano), Boston and NYC - where she performed with the Boston Modern Orchestra under Gil Rose.
The 2003 season saw Cora performing concertos by Bruch and Beethoven in the North and Republic of Ireland. A jam with Nigel Kennedy in Dingle in the summer (which appeared in Philip King's recently broadcast documentary) resulted in his inviting her to Berlin with his band, to play some Polish folk music and a bit of Jimi Hendrix. Subsequently Cora Venus accompanied Kennedy on a tour of Taiwan, Japan and New Zealand as second soloist, playing Vivaldi Double Concertos and the odd bit of Bartok.
Cora Venus also made a recent return to acting, appearing in the multiple IFTA-nominated Irish comedy "Man About Dog", released in October 2004. In 2005, Cora Venus is working on numerous recording projects, performing for the first time on viola in duo with Vladimir Spivakov, and as a baroque duo with Paulina Tkaczyk in France.
Cora plays a violin by Nicolo Gagliano dated 1738.