Joshua Bell (born December 9, 1967) is an American violinist.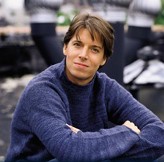 Bell was born in Bloomington, Indiana and studied the violin at the Indiana University under Josef Gingold. At the age of fourteen, he appeared as soloist with the Philadelphia Orchestra conducted by Riccardo Muti. He made his debut at Carnegie Hall in 1985 with the St Louis Symphony Orchestra. He has since played with many of the world's major orchestras and conductors.
As well as the standard concerto repertoire, Bell has performed new works - he is the dedicatee of Nicholas Maw's violin concerto, and gave the world premiere of the work in 1993. He performed the solo part on John Corigliano's soundtrack for the film The Red Violin. He also plays chamber music.
Bell is currently in possession of the Gibson Stradivarius.
Joshua Bell Recordings
More Violin Recordings