Peter Ferriera is a concert violinist, recording artist and published author who also owens his own record label. In addition he is a member of the Amadis Duo.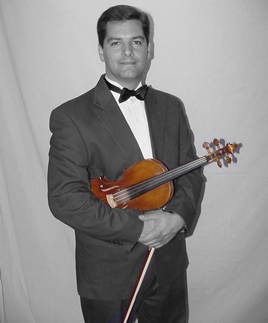 Mr. Ferreira received various awards during his years in High School and college while studying with great violinists such as Joel Pitchon, Mara Milkis, Isaac Stern, Erick Friedman, James Graseck, and participated in master classes with Pinchas Zukerman.

As a soloist, Peter has performed at numerous concert venues and with various orchestras and ensembles in the United States , Canada , South America and Europe . He performed with the Estudantina Universitaria de Coimbra and maintained the position of Concert Master or Assistant Concert Master in a number of orchestras in Connecticut and New York , as well as the Nutmeg Opera. He founded the Dresden String Quartet in 1998, and performed as its first violinist through 2002.

Finally, Mr. Ferreira is an active freelance musician and composer. In 2003, one of his personal compositions was featured in a video documentary about the underwater exploration of the German U853 submarine which sank off the Rhode Island coast. As an independent artist, Mr. Ferreira teaches privately, lectures, and conducts master classes at different schools and through his private studio located in Waterbury , Connecticut . He has also recorded four CD albums, two of them in his own studio and now under his own recording label AEMINIUM Classical Recordings. A Christmas album is also in the works and will be available December 2006.

In addition, he has been equally in demand as a recitalist and recording artist. During the next season, Peter continues to expand his presence on the concert stage with a series of important orchestral debuts and recital tours with Duo Amadis.

He also plays regularly at St. Michael Church in Waterbury, Connecticut where he is Artist in Residence. Mr. Ferreira performs on a early 1800's Jon. Bapt. Schweitzer violin.